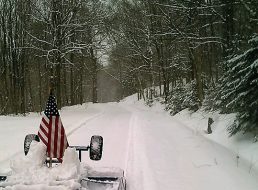 Posted on March 16, 2017 by Pittsburg Ridge Runners in Club News, Trail Reports, Warming Hut, What We're Talking About

Trail Report for Thursday, March 16th, 2017 Groomed trail yesterday 3/15/2017 Winter has arrived Big Time…..in The Burg! Total snowfall on Tuesday through Wednesday: 18 inches to over 2 feet!! It looks like we will be riding into April. Sharp contrast from last season. The PRR groomers were out yesterday and here's the low down […]

Comments Off

on Pittsburg NH Trail Report for March 16th, 2017

Continue Reading...