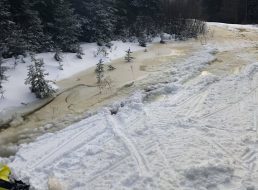 Posted on January 13, 2018 by Pittsburg Ridge Runners in Club News, Trail Reports, What We're Talking About

!!URGENT URGENT!! If you encounter water of any type, please do not try to cross it!! We are very aware of the current situation at hand with the trail system and sadly there is nothing we can do but warn people to stay away from any dangerous situation. Numerous reports of sleds under water or […]

Comments Off

on "URGENT URGENT" Trail Report 1/13/2018

Continue Reading...