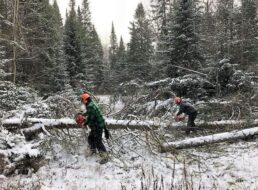 Posted on November 21, 2017 by Pittsburg Ridge Runners in Club News, Trail Reports, What We're Talking About

Hello Snowmobilers, Incredible turnout for the work party!! We had over 60 volunteers from near and far arrive at the club house on Saturday morning November 11th to tackle all the downed trees on the snowmobile trails. It was a very cold morning in the Burg, with temperatures only in the teens but everyone got […]

Comments Off

on Pittsburg Ridge Runners News, November 21, 2017

Continue Reading...