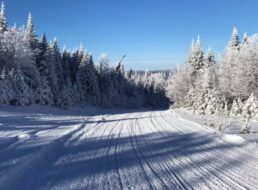 Posted on January 16, 2019 by Pittsburg Ridge Runners in Club News, Trail Reports, Warming Hut, What We're Talking About

Smoooooth Trails! Photo – G. Ford Kevin's Trail Report dated Wednesday, Jan. 16th "After the most recent snowfall last week our groomers have been working steadily to process the snow and make the trails as close to flawless as they can. The weather forecasts are predicting snowfall starting this evening and basically running right through […]

Comments Off

on Trail Report and Club News – Jan. 16th, 2019

Continue Reading...