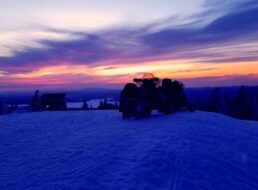 Posted on February 26, 2020 by Club User News in Club News, Trail Reports, Warming Hut

Diamond Ridge Sunset            Justin Falconer photo Kevin's Trail Report – 2/26/2020 "Okay folks we're going for a complete hail Mary here before the storm.  Later tonight we are going to send out three groomers that might possibly be able to take the edge off. ABSOLUTELY NO PROMISES. No idea how this […]

Comments Off

on Kevin's Grooming Update & Weekend Happenings, Wednesday, Feb, 26th

Continue Reading...