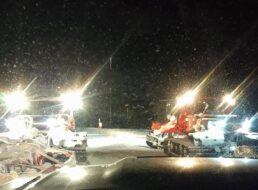 Posted on March 10, 2019 by Pittsburg Ridge Runners in Club News, Trail Reports, Warming Hut, What We're Talking About

Groomers ready to roll! Kevin's latest trail report….. "Well to say the least I have been a little bit busy and definitely delayed in getting out a current trail report for the end of the week. Groomers are still running every night as temperatures allow. The colder temperatures this past week have definitely set our […]

Comments Off

on Trail Report & Club News – Saturday night, March 9th, 2019

Continue Reading...