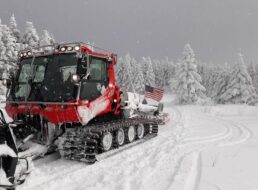 Posted on January 9, 2020 by Club User News in Club News, Trail Reports, Warming Hut, What We're Talking About

KEVIN'S TRAIL REPORT – Thursday, January 9. "We received 6 inches of new snow in the last 24 hours. Grooming operations are running nightly. Trails south of Back Lake are improving by the day and are in good condition. Trails north and east of Back Lake in good to excellent condition. Weather prediction for warmer […]

Comments Off

on Trail Report & Club News – Thursday, January 9th, 2020

Continue Reading...